Getting to Nuts Huts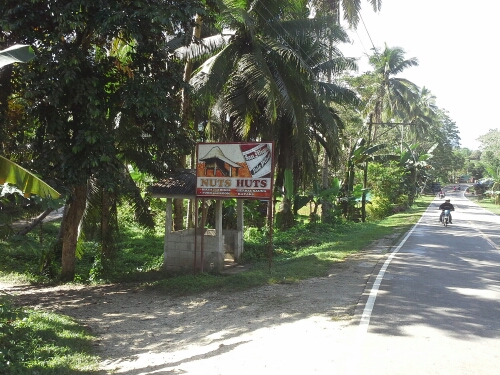 From Tagbilaran, port city of Bohol: taxi or public transport (from Dao Terminal) to Loboc.
In Loboc there are two ways to access Nuts Huts, by day or night.
One is by access road starting at the Nuts Huts signboard (see picture above),
3 km beyond the town of Loboc on the way to
Carmen and the Chocolate Hills.
It is an 800 m rocky path going up and down – that can be quite slippery after heavy rain - that takes you to the top of the stairs
leading down to the reception and restaurant.
At night bring a flash light to find your way as there are only lights at the first 200 m of the path, after that … Heart of Darkness.
Look out for the signboard halfway down the access road on the left side, marking 400 m to Nuts Huts (see picture). You're almost there.
There is a bright light at the yellow Nuts Huts concrete structure that marks the beginning of the stairs down to Nuts Huts.
Another way is by habal-habal (motorbike taxi) from Loboc Town all the way to the Nuts Huts entrance (60 P)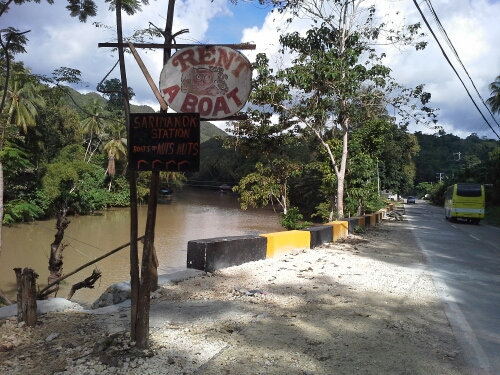 There is also access to Nuts Huts by boat. Ask the jeepney/bus/taxi driver to drop you at Sarimanok Boat Station,
some 800 m from Loboc Town towards Nuts Huts, and take the boat to Nuts Huts
at 150 P per person (200 P after dark).
You will land on the Nuts Huts pier and our staff will show you the way up to the Nuts Huts reception.
No need to carry your luggage all the way up as you will be staying in one of
the cottages near the pier.
Check-outs by boat can also be arranged for the same price (150 P) and at 200 P when you have a really early check-out (before 6 am).

Call Sarimanok 0998 8848 373 ahead if you want to be sure there is a boat
man to take you to Nuts Huts, especially if you arrive before 9 am or after 5 pm

A gentle warning: in order to prevent confusion affecting other businesses and our own, we would like to point out that Nipa Hut in the town of Loboc is sometimes mistaken for Nuts Huts. With a view to getting travelers where they actually want to go, be it either Nipa Hut or Nuts Huts, we point out a few distinctive features of Nuts Huts so as to prevent confusion:
Nuts Huts' access road is 3 km beyond the town of Loboc (see picture) on the way to Carmen and the Chocolate Hills. Nuts Huts has no online booking system (yet), such as www.booking.com so cannot be booked in advance (only through 'informal' soft reservations by email:)